ordering information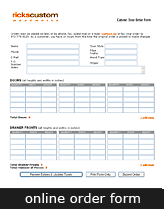 Please use our order form to request a quote. Fill in all applicable spaces as completely as possible so that we may promptly provide you with the most accurate quote. For any questions, please contact us.
Orders may be placed on-line, or sent by fax, postal mail or email. Call us at 1-972-723-8331 or fax your order to 1-972-775-8123.
Upon receipt of your order, a representative will contact you within 24 hours to confirm your order and make payment arrangements.
Add-ons are not guaranteed to ship on the same day as original order.
Being a custom manufacturer, we shall not accept any returns for refund on custom ordered items.
Quotes
When a project needs specific pricing, please request a quote to ensure proper costing for your job. In the woodworking industry, many projects can call for non-standard items that we don't show on our web site but are needed in order to quote or complete a project. If so, please phone or fax all information and dimensions of such items as completely as possible so that a Rick's Custom Woodwork Service Representative may provide you with an accurate quote as promptly as possible.
Payment Policy
Rick's Custom Woodworks requires all orders to be shipped COD or prepaid with your VISA or MASTERCARD until credit terms have been established. If you would like to apply for credit, please contact our Credit Department and ask to have a credit application forwarded to you.
Packaging & Shipping
Rick's Custom Woodworks packages our product to ensure arrival at your door free of damage. We offer various methods to adapt to several situations. It is important to inform your Sales Representative whether or not you have forklift availability. This will determine packaging techniques used for your product so that you are able to receive the product efficiently and so that it will remain damage-free. Packaging costs are determined by the packaging required to ensure the safety of your product and are determined by order size and quantity. Small orders will generally be shipped by either UPS or FedEx, depending on time constraints. For large orders that require a common carrier, we will request quotes on your behalf to find the most economical and reliable carrier.
Damage Claims
Rick's Custom Woodworks is not responsible for damage incurred in shipping. Upon receiving a shipment, please be sure to inspect for any signs of damage that may have occurred during shipping before signing the waybill. If there are any signs of damage please notify the driver and request that a claim inspection be done. If you suspect any damage at all, please sign the waybill "DAMAGED" as most companies do not want their drivers waiting around while you inspect each package and the product inside. If after removing the packaging some damage is noted, it is important to keep the original packaging and your copy of the waybill. All packaging, product, and the waybill must be kept on hand until the claim is approved. If you need to file a claim, call your local terminal and request a "claim form". Keep damaged goods and container for Freight Company's inspection. Please contact us if we can be of assistance.
Warranty
Rick's Custom Woodworks warrants that its cabinet doors and drawer fronts will be free from defect in workmanship and material for one year from the date of shipment. The beauty of natural wood does allow for limited amounts of natural characteristics of wood to show.

Rick's Custom Woodworks will not be liable for any damages caused by improper handling, storage or installation of our product. Rick's Custom Woodworks will not be liable for any costs incurred by the customer for finishing, removal, installation, travel, or labor of any kind, nor any other product used with our products. This warranty covers only the replacement of our product as ordered by the customer, and the shipping charges to and from Rick's Custom Woodworks.

Due to the natural expansion and contraction of wood, any product with a laminated panel over 24" wide will carry no warranty. This includes but is not limited to raised panel doors and drawer fronts.

Rick's Custom Woodworks will void warranty if an "unfinished or raw" wood product is not paint sealed properly within a reasonable time after receiving as we cannot be responsible for the conditions affecting the product in an unprotected state.