About Us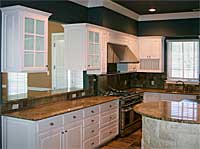 Rick's Custom Woodworks is the Raised Panel Door Source.
Many custom home builders, other cabinet shops, and home buyers in Dallas and the North Texas area, come to Rick's for the quality and craftsmanship that has made us a leader in the cabinet industry.
Space Planning is the Key to your Design
When laying out your kitchen, whether your space is large or small, all of our cabinetry at Rick's is built to satisfy your unique needs and comply with your individual specifications.
Innovation and Quality
Using a variety of face designs from simple"shaker style" to detailed raised panel doors, Rick's Custom Woodworks can create a unique customized look for each individual using innovative design features, quality hardware and fine woods.
Rick's specializes in fine custom cabinets for both the home and office. From kitchens and media centers, to equipment cabinets and specialty cabinets for medical offices, the staff at Rick's Custom Woodworks designs and fabricates fine cabinetry for any function or application.
History
Rick Golden is the Founder and President of Rick's Custom Woodworks. Rick grew up working in his father's cabinet shop. With a sincere interest and talent in cabinetry, he started his company, Rick's Custom Woodworks, in 1983. The company grew to become a major source for home builders in the Midlothian area.